Checker brick is a kind of neutral refractory material with alumina content above 55%, which is made of bauxite or other raw materials with high alumina content. It is a kind of heat transfer medium, which is mainly used in the upper part of hot blast stove regenerator to store heat. Therefore, checker brick has the characteristics of small creep rate, strong anti-erosion ability, large heat storage,etc. Besides, the thermal stability of checker brick is high and the refractoriness of it is more than 1770℃. So if you are looking for fire bricks for hot blast stoves, just feel free Contact us for free quotation!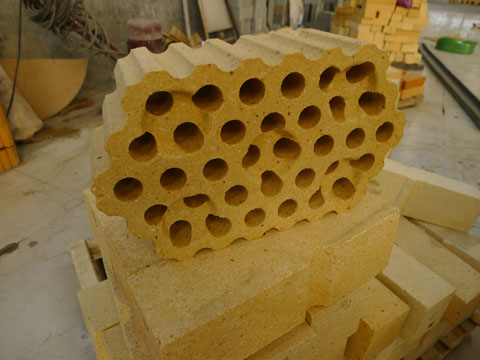 Checker Brick Description
Checker brick is a heat-carrying thermal storage body that is widely recognized and accepted by the world iron-smelting industry and has many excellent thermal features such as strong heat exchange capacity, large thermal storage area, smooth ventilation and low resistance. Checker brick is a kind of heat transfer medium, which is mainly used in the upper part of hot blast stove regenerator, which plays a significant role in the process of heating cold air into hot air. And it is mainly used for masonry blast furnace, hot blast stove, electric furnace top, reverberatory furnace and rotary kiln lining due to its good slag resistance.
Checker Brick Properties
Checker brick regenerator structure has been widely applied in the modern hot blast stoves because it has the following advantages:
Good Volume Stability
Excellent High Temperature Load Creep Performance
High Density and Low Porosity
Strong Anti-erosion Ability
High Thermal Stability
Strong Heat Exchange Capacity
Large Thermal Storage Area
Checker Brick Uses
Checker bricks currently are mainly used in the blast furnace hot blast stoves and flame furnaces.
Checker bricks can be passed through the gas, which are mainly used in the regenerator of hot air furnace. Checker bricks used in the hot blast stoves are also different due to the technical requirements of different temperature zones. When the temperature of hot blast is lower than 900℃, fire clay bricks are generally used. When the temperature is higher than 900℃, high alumina brick, mullite brick, sillimanite brick and silica brick can also be applied.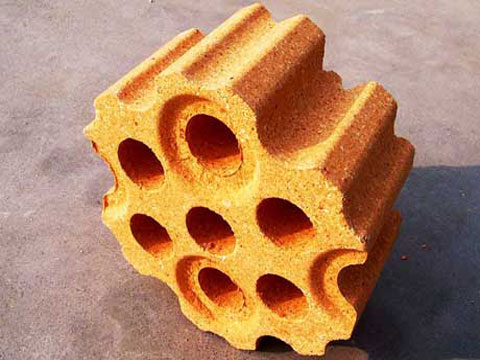 Checker Brick Specification
Technique Data of Hot Blast Furnace Checker Brick

Item
Index
International code name
SK35
SK36
SK37
SK38
SK40
Al2O3 %
≥48
≥55
≥65
≥75
≥80
Fe2O3 %
≤2
≤2
≤2
≤2
≤2
Refractoriness ℃
≥1750
≥1770
≥1790
≥1790
≥1790
Apparent porosity %
≤22
≤22
≤23
≤23
≤21
Cold crushing strength Mpa
≥39
≥44
≥49
≥54
≥65
Refractoriness under load(0.2MPa) ℃
≥1420
≥1470
≥1500
≥1520
≥1530
Reheating Linear Change (1500℃* 2h) %
+0.1~ -0.4
+0.1~ -0.4
+0.1~ -0.4
+0.1~ -0.4
+0.1~ -0.4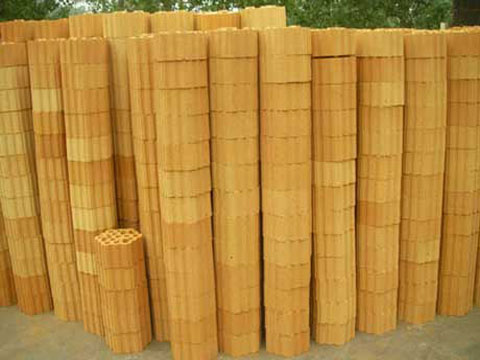 Checker Brick Blast Furnace
Checker brick is primarily applied in the hot blast stoves. The function of hot blast stove is to heat the cold air sent from the blower to the blast furnace into hot air, and then the hot air is sent to the blast furnace through the hot air duct for combustion reaction.
The blast furnace hot blast stove has a burning period and a blowing period, and the two working periods are cyclically rotated. During the burning period, the high-temperature flue gas after combustion passes through the holes of the hot-blast furnace checker brick, and transfers the heat to the checker brick; during the air supply period, the cold air from the blower enters the hot air furnace, and is heated by the checker brick into hot air and delivered to the blast furnace through the hot air duct.
The Development Prospect of Checker Brick
Nowadays, the technological development trend of the iron and steel industry in the metallurgical industry in the world is to further reduce consumption and increase productivity. Among them, increasing the temperature of the hot blast stove is an important measure. With the technical development of Kalujin top combustion hot blast stove, the maximum wind temperature of the  hot blast stove can reach 1350℃. The use of 20 mm aperture checker bricks improves the heating area of themselves, reduces the amount of them, and greatly reduces the amount of refractory materials used in the hot blast stove, thus reducing the investment in the blast furnace hot blast stove.
At present, 20mm aperture checker bricks have been fully used in the newly rebuilt Kalujin top combustion hot blast stove in many regions. Modern hot blast stoves also have a tendency to develop from 30 mm aperture checker bricks to 20 mm aperture checker bricks. So checker bricks must have a bright future! If you are looking for a reliable cooperation partner, Email us right now!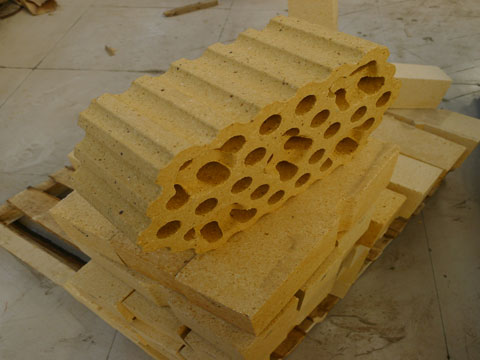 Checker Brick Manufacturer
As a professional refractory material manufacturer, refractory products from RS factory is renowned for its better performance and excellent quality. High grade material is used to manufacture the products, which has been sourced from reliable and trusted vendors.
Besides, RS is a company that always satisfies the needs of customers and keeps pace with the times. When realizing the changing trends of the market, our company is engaged in manufacturing and supplying an extensive range of fire bricks, such as fire clay bricks, alumina bricks, insulating fire bricks, soft fire bricks, ceramic fiber products and so on. Our Reputation built in the past years through: Russia, Iran, Vietnam and India, etc. You can always get feedback from our customer in these countries before dealing with us. So you feel free Contact us for getting you want!