Refractory materials for aluminum melting furnace structure and inner lining. The steel structure of the aluminum melting furnace generally adopts a 10-12mm thick carbon steel plate, which has good air tightness. Different parts of the furnace have different lining materials, and the melting pool is built with high-quality high-alumina bricks (LZ-75), anti-seepage aluminum castables, and heat-insulating bricks. High-alumina bricks T-43 and T-44 for aluminum melting furnaces, and Grade I high-alumina bricks LZ-80 75 65 for erosion resistance. The side wall above the liquid level 250-300mm is composed of high-quality clay bricks, refractory concrete, heat insulation bricks, and silicon-calcium boards. The furnace roof is a hanging flat furnace roof, and heat-resistant steel metal anchors are used every 300mm on the steel frame of the furnace roof. Unshaped refractory materials can be used for the lining structure of the upper side wall of the molten pool of the oblique aluminum melting furnace. It is connected with the steel structure of the side wall through heat-resistant steel anchors to meet the working conditions. Damelting aluminum furnace door, lined with refractory castables, heat-insulating lightweight castables, furnace door frame, and seals around the furnace door are assembled with heat-resistant castings with small sections and surface machining. The aluminum silicate fiber braided rope in the heat-resistant casting groove between the furnace door and the furnace door frame softly seals the gap between the furnace door and the furnace door frame.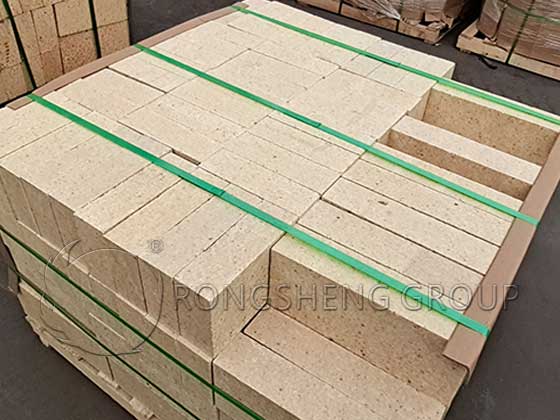 Refractories for aluminum melting furnaces mainly include shaped materials and unshaped refractories. Among them, the shaped materials are mainly high-alumina bricks, and the unshaped materials are mainly clay or high-alumina refractory castables, refractory ramming materials, and refractory plastics. The application proportion of unshaped refractories in domestic industrial furnaces has exceeded 20%, while in foreign countries, this proportion has exceeded 40%.
Application of High Alumina Refractory Bricks T-43 and T-44 in Aluminum Melting Furnace
Primary aluminum ingots need to be smelted, cast, and processed before they can be used. Aluminum smelting furnaces are mostly fixed or tilting reverberatory furnaces with gas or fuel oil, and resistance reverberatory furnaces and induction crucible furnaces are also used. Different parts of different furnace types have different requirements for high alumina refractory bricks.
The reverberatory furnace of aluminum smelting equipment, the furnace lining that contacts the molten aluminum. Generally, high-alumina refractory bricks with an Al2O3 content of 75% to 80% are used for masonry. High alumina refractory bricks T-43, T-44. When smelting high-purity metal aluminum, mullite refractory bricks or corundum bricks are used. Silicon carbide refractory bricks combined with silicon nitride can be used in places that are prone to erosion and wear, such as hearth slopes and waste aluminum materials.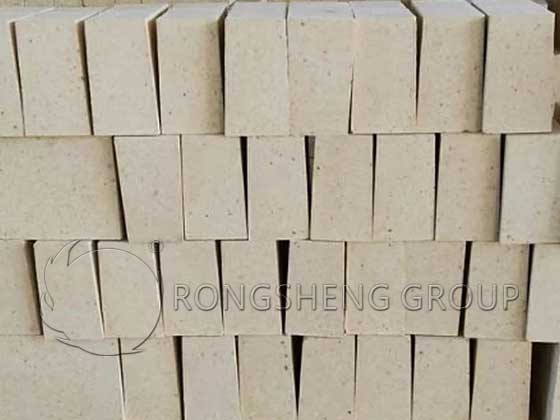 The aluminum solution is severely scoured in the aluminum flow tank and the aluminum outlet, and the self-bonded or silicon nitride-bonded silicon carbide refractory bricks are generally used. Zircon refractory bricks are also used as linings. It is better to use vacuum-cast refractory fiber for the blockage of the aluminum outlets.
Furnace linings that do not contact the aluminum solution generally use high-alumina refractory bricks, high-alumina refractory castables, or refractory plastics. The heat insulation layer adopts lightweight bricks, lightweight castables, and refractory fiber products. The lining of the flow aluminum tank is generally made of silicon carbide refractory bricks, and prefabricated blocks of electrolytic foamed silicon bricks can also be used.
Rongsheng refractory brick manufacturers can provide clay bricks, high alumina refractory bricks, and mullite lightweight insulation bricks. High-alumina refractory bricks T-43 and T-44, Rongsheng's professional technical team can provide kiln energy-saving solutions according to different application parts and industry fields of high-temperature industrial furnaces. Contact us for quotes and samples in seconds.
High Alumina Brick Price for Aluminum Melting Furnace
High alumina bricks, high alumina refractory bricks, and corundum bricks. Rongsheng refractory brick manufacturers believe that the price of high-alumina bricks, first of all, depends on the color of the first-grade high-alumina bricks, and the appearance is light yellow and white. The surface is relatively smooth, each side is flat, and there are no broken corners and no cracks. The key decision is the weight of the individual bricks. According to national standards, the weight of a single high-alumina brick must reach 4.5 kg. If the weight does not meet the requirements, or the appearance is poor, it is a substandard product, and the price of such high-alumina bricks for aluminum melting furnaces must be very low. Believe it, you get what you pay for.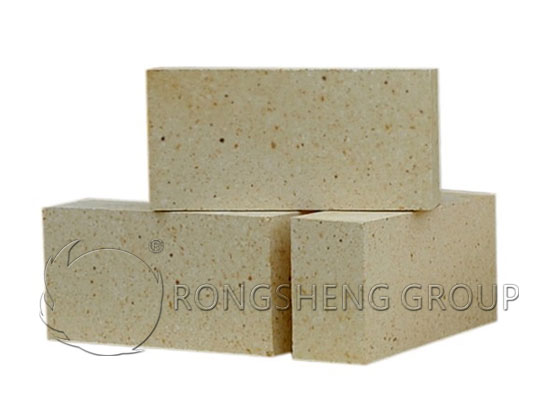 Refractory Bricks for Different Aluminum Melting Furnaces
Aluminum melting furnaces mainly include reverberatory furnaces, rotary drum furnaces, induction furnaces, etc., and the operating temperature is generally 700-1000 °C. The damage of this type of furnace lining is mainly caused by the penetration and erosion of molten aluminum. The lining is generally built with clay bricks, high alumina refractory bricks, and corundum mullite bricks.
The non-working layer of the rotary drum furnace is built with clay heat-insulating refractory bricks or floating pearl bricks, and can also be poured with light refractory castables with a bulk density of 1.0g/cm3 or made into prefabricated blocks. The working lining is built with dense clay bricks or high-alumina refractory bricks containing more than 55% aluminum, and the furnace life of the rotary drum furnace is generally 300-500 furnace times. When adding salt flux to smelt aluminum block. Due to the intensification of chemical erosion, the furnace life has been reduced.
Refractories for induction furnaces. The lining of the furnace is generally built with clay bricks or three-grade high-alumina refractory bricks. The bottom of the furnace is sometimes poured with high-alumina refractory castables first, and then high-alumina refractory bricks are built. When the capacity of the induction furnace is less than 10t, the lining body can be made of high-alumina refractory castable or refractory ramming material with an Al2O3 content of about 75%, or corundum refractory castable or dry vibration material. The lining around the furnace inductor coil is generally poured with corundum refractory castable as a whole or vibrated and compacted with dry vibrating material. Due to the different types of raw materials and operating conditions, the service life of the furnace is also different. During use, the vulnerable parts such as the lining around the coil should be repaired 1-5 times.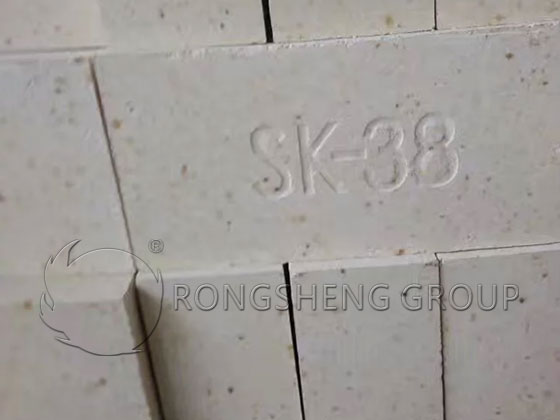 Refractory materials for holding furnaces. Aluminum holding furnaces are divided into slot induction furnaces, resistance heating pool furnaces, and gas chamber furnaces. Due to the low working temperature of this type of equipment, materials such as clay bricks are generally used as the lining body, and a higher service life is obtained.
RS Refractory Brick Manufacturers
Rongsheng Refractory Brick has professional knowledge reserves and rich sales experience in which refractory materials are used in aluminum melting furnaces. High alumina refractory bricks T-43, T-44. The refractory brick products of Rongsheng refractory manufacturers are widely used in coke ovens, building materials, steel, nonferrous metals, electric power, and other industries. Including aluminum silicate thermal insulation series, siliceous series, alkaline series, lightweight insulation brick series, and other shaped products, as well as castables, self-flowing materials, plastic, and other unshaped materials of different materials. Scour-resistant primary high alumina brick LZ-80 75 65 for aluminum melting furnace, contact us for free samples and prices.