Alumina bricks are great for performing at high temperatures and have excellent corrosion and wear resistance, a high bulk density and low iron content.They are used in all kinds of industrial furnace and high temperature equipments to improve furnace lives. RS Manufacturer can provide fire bricks with varying levels of Alumina content from 40% up to 90%. Therefore, everyone who are willing to buy alumina fire bricks can find the most satisfactory refractory materials in our company! Contact us for free price list right now!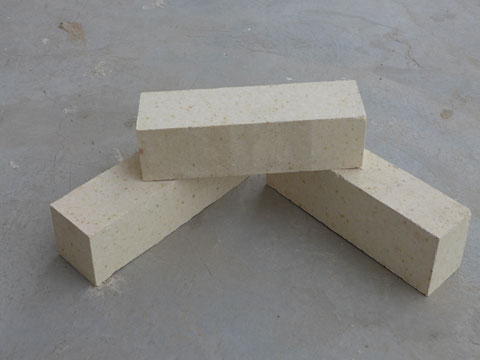 Description About Alumina Bricks For Sale
Alumina Bricks, shaped refractory material, are a kind of refractory bricks with different alumina content. There are many types of alumina fire bricks according to different alumina content and raw materials, such as Alumina Magnesia Carbon Brick, High Alumina Fire Brick, Aluminum Insulation Brick, Alumina Bubble Brick and so on. Different alumina refractory bricks for sale have different features, application and specification.
Alumina Bricks Properties
The properties of alumina refractory bricks have advantages and disadvantages just as the old saying goes "every coin has two sides".
Alumina bricks belong to neutral refractories, which are resistant to erosion of the acid and alkali slags or solvent, and other chemical erosion. Alumina refractory brick is a kind of alumina silica fire bricks, containing Al2O3 about 48%-90%. Alumina fire bricks have better acid and alkali slag resistance performance than fireclay bricks. Such bricks are featured with wear and spalling resistance, anti-chemical erosion, high refractoriness under load, low creep rate, good thermal conductivity and good thermal shock resistance.
Wear and Spalling Resistance
Anti-chemical Erosion
Low Creep Rate
Good Thermal Conductivity
Excellent Thermal Shock Resistance
High Refractoriness
Meanwhile, the limitations of alumina bricks are as follows:
High Brittleness
Low porosity
High sintering temperature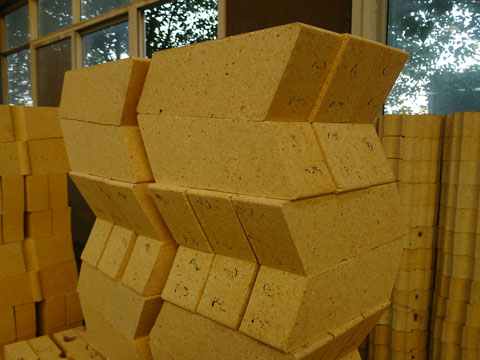 Alumina Bricks Uses
Alumina bricks are mainly used in the following fields:
Metallurgy Industry
Construction Materials
Ceramic Industry
Cement Kilns
Alumina Bricks Specification 
The properties of alumina bricks measured included apparent porosity, bulk density and cold crushing, measurements were done on four samples and the average value taken. The thermal stability of alumina bricks was measured using the water-quenched test according to ASTM. The results show that the thermal stability of alumina refractory bricks depends strongly on their chemical composition.
Alumina Refractory Brick Physical and Chemical Index 

Item /Products

RS-80

RS-75

RS-65
RS-55

RS-48

Al2O3 (%)
80
≥75
≥65
≥55
≥48
Refractoriness  (℃ )
≥1790
≥1790
≥1790
≥1770
≥1750
Bulk density  (g/cm3)
2.65
2.5
2.45
2.4
2.3
Softening temperature under load  (℃ )
1530
≥1520
≥1500
≥1470
≥1420
Linear changes on reheating (%)
1500℃*2h
0.1
0.1
0.1
0.1
0.1
1450℃*2h
-0.4
-0.4
-0.4
-0.4
-0.4
Apparent porosity (%)
22
≤23
≤23
≤22
≤22
Cold crushing strength (Mpa)
55
≥50
≥45
≥40
≥35
Application 
steel furnace, glass furnace, sodium silicate furnace, ceramic shuttle kiln, cement rotary kiln, blast furnace, electric furnace, blast furnace and reverberatory furnace.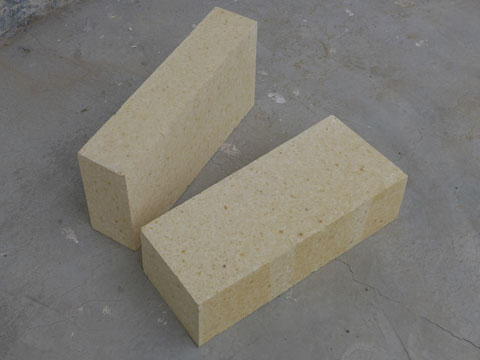 Alumina Bricks Composition
Alumina bricks are made with superior raw materials to improve strength, insulation and overall performance at higher temperatures. When exposed to the higher temperatures, the typical alumina bricks should not expand much which should lead to better performance and longer life.
Alumina: more than 48%
Clinker:  up to 90-95%
Raw materials: bauxite, corundum and clay
Alumina Bricks Manufacturing Process
We know that different fire bricks have different production ways, such as dry press process, fused cast, hand molded, formed (normal, fired or chemically bonded), un-formed (monolithic-plastic, ramming and gunning mass, castables, mortars, dry vibrating cements) and so on.
Alumina has high heat resistance and corrosion resistance compared to other ceramics such as silica or mullite. However, for its application to refractory bricks, its high thermal conductivity must be reduced. For reducing the thermal conductivity here they used gelation of slurry (GS). By using this method we produce high porosity solid foam was applied here to produce the alumina fire bricks. High porosity alumina refractory bricks can be produced using the GS method in which foam with 90–97.5% porosity could be fabricated. These foams have high compression strength from 0.2 to 3 MPa, which is proportional to the square of the bulk density.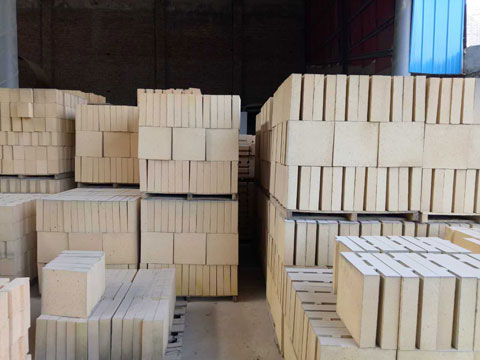 Alumina Bricks Manufacturer
RS Kiln Refractory Supplier is always devoted to providing high quality alumina fire bricks for our valuable clients.
RS company upholds the consistent business philosophy, pursues the tenet of "honesty, humility, innovation, and dedication" and regards "high quality and low price" as the cornerstone of the company's development. We will establish the "Rongsheng Brand" as our strategic target. And with scientific management processes, a sound customer information management system, a wealth of product types, to provide our users with satisfactory, timely and efficient services. So there is no doubt that RS will be your best choice whenever and wherever. Please feel free contact us for free quotation.