Alumina bubble bricks, also called alumina lightweight insulating fire bricks, are an insulating refractory product mainly composed of alumina hollow spheres. Alumina bubble bricks have low apparent porosity, low thermal conductivity, good thermal shock resistance and high temperature structural strength, can be directly masonry lining in high temperature furnace lining in contact with flame, and manufacturing high temperature furnace tubes, trays and protective covers. So everyone who wants to buy alumina bubble bricks can email us for free quotation.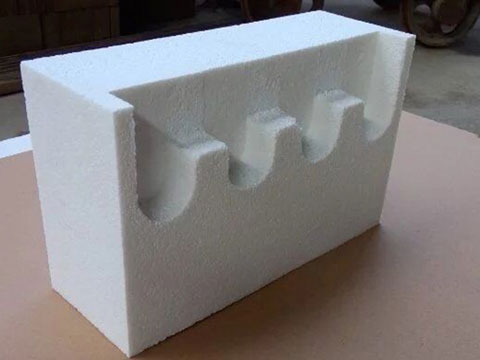 Alumina Bubble Bricks Definition
Alumina bubble brick, also known as alumina lightweight insulating fire brick, is made of alumina bubbles and alumina powder as main raw materials, combined with other binders, and fired at a high temperature of 1750℃. It belongs to a kind of energy-saving insulation material of ultra-high temperature materials.
Alumina Bubble Bricks Raw Material
The main raw material of alumina bubble bricks are alumina hollow spheres. Alumina hollow ball is a new type of high temperature thermal insulating material, which is made by smelting and blowing with industrial alumina in electric furnace, and the crystal type is A-Al2O3 micro crystal.
Alumina bubble bricks with alumina hollow ball as the main raw material, can be made into various shapes of refractory products. The maximum temperature of making alumina bubble brick is 1800 °C and the mechanical strength of it is high, which is several times that of ordinary lightweight products, while the bulk density is only a half of corundum products.
As a kind of raw material, alumina bubble bricks have been widely applied in high temperature and ultra high temperature furnaces such as petrochemical industrial gasifiers, carbon black industrial reactors, metallurgical industrial induction furnaces, and have achieved a very satisfying energy-saving effect.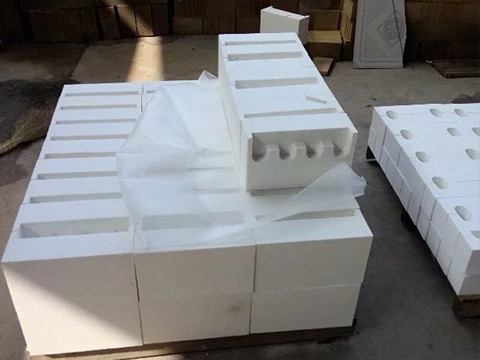 Alumina Bubble Bricks Properties
Good thermal stability
High refractoriness
Low thermal conductivity
High temperature strength
Low volume density
Excellent insulation effect
Alumina Bubble Bricks Advantages
Compared with ordinary insulating fire bricks, alumina bubble bricks contain a large number of closed pores, so it has high strength and stable pore structure, low density and low thermal conductivity. Moreover, alumina bubble brick has achieved significant effects on reducing the weight of furnace body, modifying the structure, saving materials and saving energy. The superiority of alumina bubble bricks are as follows:
High Operating Temperature
The use temperature of alumina bubble bricks is above 1750°C, and it has good thermal stability. The refiring linear change of alumina bubble brick is small, so it has a longer service life.
Modifying Structure
Alumina bubble bricks can optimize the structure and reduce the weight of furnace body. Now high temperature resistant materials are all heavy bricks with a bulk density of 2.6-3.0g/cm, while alumina bubble bricks are only 1.1~1.5g/cm. Alumina bubble bricks can reduce 1.1- 1.9 tons of weight in the same cubic meter volume.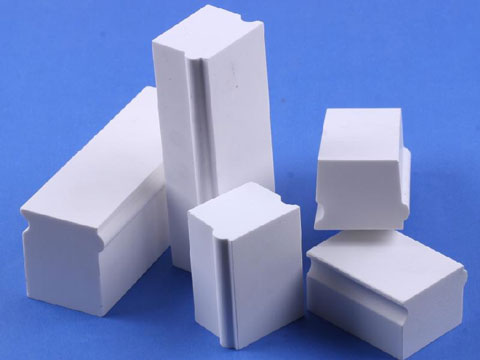 Saving Material
At the same temperature, the price of heavy bricks and alumina bubble bricks are equivalent, if use alumina bubble bricks, we can not only save 1.1-1.9 tons of heavy bricks, but also save 80% of refractory insulation materials.
Saving Energy
Alumina bubble brick has the characteristics of thermal insulation, low thermal conductivity, so it can have a good effect on thermal insulation, reducing heat dissipation and improving thermal efficiency. Alumina bubble brick is a lightweight refractory bricks with high temperature resistance and energy saving. It is very stable in various atmospheres especially applied in the high temperature kilns at 1800°C.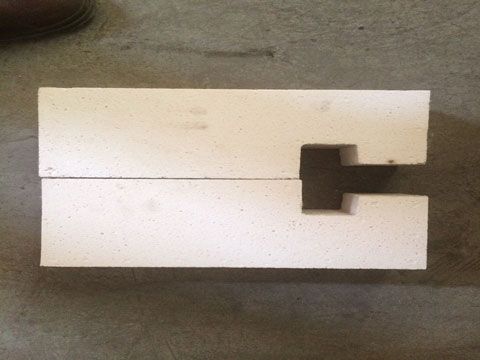 Alumina Bubble Bricks Manufacturing Process
The manufacturing process of alumina bubble bricks can be simply divided into the following five parts: Balching, Pressing, Drying, Firing and Packaging.
Alumina Bubble Bricks Applications
Alumina bubble bricks are mainly used as linings for high temperature industrial furnaces under 1800°C, such as high temperature kiln lining bricks for refractory bricks, electronics and ceramic industries. Besides, Alumina bubble bricks are applied in thermal insulation layers for thermal equipment, for example, Petrochemical industrial gasifier, coal industry reactors, metallurgical industry induction furnaces.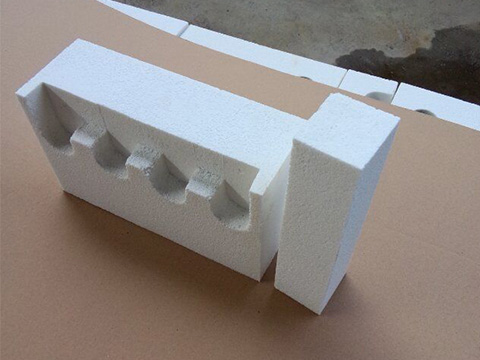 Alumina Bubble Bricks Supplier 
RS company always commits itself to produce high-quality alumina bubble bricks at a lower price all the time. So after 20 years of development, RS Kiln Refractory Manufacturer has won a good reputation both at home and abroad with its good corporate image, excellent product quality, and consummate after-sale service. Not only can you buy excellent refractory bricks, but also enjoy the best service in RS. Don't be hesitate to email us for a free quotation.