To Select and Buy Refractory Bricks, you need to have a comprehensive understanding of refractory bricks and refractory brick manufacturers. The Rongsheng refractory manufacturer pointed out that, first of all, in terms of the quality of refractory materials, the quality of refractory materials fluctuates greatly. This has little to do with the scale of the refractory plant. The most important thing is to inspect and inspect the raw material plant on the spot. Including the clarified quality requirements for refractory material manufacturers and the production capacity of refractory material manufacturers. Only these meet your actual production needs, and the price of refractory bricks is within a reasonable budget, you can purchase refractory products suitable for your own working conditions.

What Kind of Refractory Brick is Better?
What kind of refractory brick is better? There is no definite answer to this question. Because any thermal kiln equipment is not only built with one kind of refractory brick. Different refractory bricks need to be used in combination to construct a perfect furnace refractory lining. Select and Buy Refractory Bricks. Refractory bricks can be divided into five categories according to their composition, namely: silica-alumina refractory bricks, alkaline refractory bricks, carbon-containing refractory bricks, zirconia-containing refractory bricks, and heat-insulating refractory bricks. Various types of refractory bricks have their own advantages. It is not possible to evaluate the quality of refractory bricks from one aspect.
Refractory Bricks' Raw Material
The raw materials selected for different types of refractory bricks are also different.
The silica-alumina refractory raw materials: silica, fused silica, semi-siliceous clay, wax stone, clay, and clay. Kaolinite, scorched gemstone, bauxite, high alumina bauxite, mullite. Corundum, industrial alumina, ball clay, bentonite.
Alkaline refractory materials: magnesite, magnesia, seawater magnesia, capacitor magnesia. Dolomite, magnesia dolomite, magnesia dolomite sand. Magnesia calcium sand, magnesia silica sand, magnesia iron sand, magnesia chrome sand, magnesia aluminum spinel. Magnesia chromium spinel, forsterite, cordierite.
Other refractory materials: graphite, carbide, silicon carbide, nitride, boride, zirconia, zircon, chromite sand.
Thermal insulation refractory materials: diatomite, vermiculite, perlite, floating beads, mineral wool.
Several Commonly Used Refractory Bricks
Refractory bricks have a wide range of materials and a wider range of applications. Commonly used refractory brick materials include fire clay bricks, high alumina bricks, mullite bricks, and corundum bricks. The main raw materials of different refractory bricks are different. The technical department of the Rongsheng refractory manufacturer has summarized the main raw materials used in the following common refractory bricks. Select and Buy Refractory Bricks, If there are formula requirements, the following content is for reference only, and the specific needs to be determined according to the specific use of refractory bricks.
Clay bricks are made of refractory clay or kaolin and clay clinker, combined with clay. It is formed by the semi-dry method or plastic method and baked at 1250-1420℃. The refractoriness of clay bricks is generally 1580℃-1750℃, and the softening temperature under load is 1250℃-1450℃. Common clay bricks include national standard clay bricks and clay bricks for hot blast stoves.
High alumina bricks are made of natural high-grade bauxite, which contains minerals such as diaspore, baumestone, and kaolinite. Add soft or semi-soft clay to the high alumina clinker as a binder. Then it is prepared by batching, mixing, forming, drying, and firing. The refractoriness of high alumina brick is about 1770℃, and the softening temperature under load is 1420℃-1550℃. Common high alumina bricks are LZ-65, LZ-55, LZ-48 and so on.
Mullite bricks are silica-alumina refractory products with mullite as the main crystal phase. Generally, the alumina content is between 60%-75%. According to the production process, it is divided into sintered mullite brick and fused mullite brick.
Corundum bricks are refractory products with corundum as the main crystal phase. Common corundum bricks include white steel jade bricks, brown corundum bricks, and chrome corundum bricks.

The Price of Refractory Bricks
The specifications and models of refractory bricks can reach hundreds or even more. A shape of refractory brick represents a model. At present, the price stratification of refractory bricks is mainly determined according to the material, shape, size, and production complexity. For example, standard size refractory bricks such as 230X114X65 (mm), this size model of refractory bricks is relatively the easiest to produce and the most commonly used. When buying, you can ask the manufacturer for the price according to the materials you need, such as high alumina, clay, corundum, silicon carbide, magnesia, and silicon. If it is a special-shaped brick, the price will be more expensive, the price is several times or even higher than the standard brick. Before purchasing special-shaped bricks, you need to provide the manufacturer with a drawing of the required brick size, and then the manufacturer will quote according to the drawing.
In many cases, Select and Buy Refractory Bricks, the prices of the same refractory bricks we obtain from different sources are different. That is because the prices that refractory brick manufacturers can provide are mostly standard brick prices. Specifically, it is necessary to determine the demand, brick size, and quantity with the manufacturer according to the actual working conditions, and finally, look at the price of refractory bricks.
Summary: The factors that can determine the price of refractory bricks are mainly the raw material market used in production and the difficulty of refractory brick processing. Rongsheng refractory manufacturers' price changes and increases in silicon-aluminum refractory bricks are still running smoothly. However, now the domestic environmental protection requirements are relatively high, and the factory has installed environmental protection processing equipment and responded to the call for staggered production, which will cause the price of refractory bricks to rise.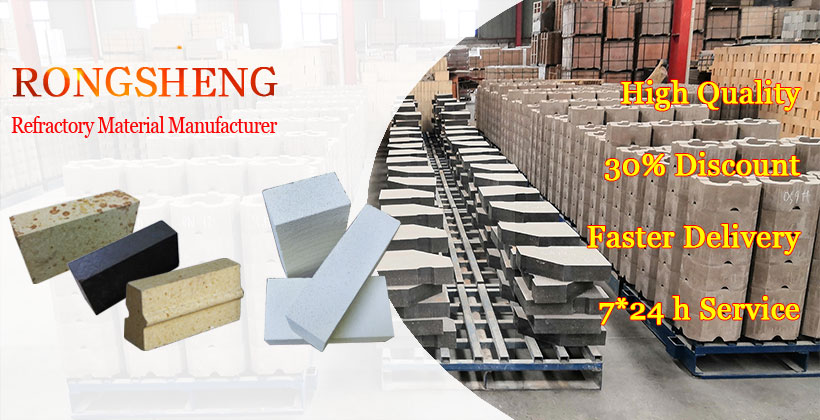 Rongsheng refractory brick manufacturer
Rongsheng is an experienced refractory brick manufacturer. Rongsheng's refractory products have been sold to more than 60 countries and regions all over the world. Our refractory products are available in various countries and have been well received by customers. If you need to buy cheap refractory brick products, Select and Buy Refractory Bricks, please leave your specific needs on our website page. With a comprehensive understanding of refractory bricks, Rongsheng's service will not let you down.