Magnesium Bricks are widely used in the lining of steelmaking furnaces, ferroalloy furnaces, and mixed iron furnaces in the iron and steel industry due to their good high-temperature performance and strong resistance to alkaline slag. Non-ferrous metallurgical industrial furnaces, such as copper smelting, lead, zinc, and Sid furnace lining. Lime kilns in the building materials industry. Glass industrial regenerator lattice and heat exchanger. High-temperature calcining kilns, shaft kilns, and tunnel kilns in the refractory industry. Rongsheng refractory brick manufacturers can also recommend refractory materials for thermal furnace linings according to the characteristics of raw materials and fuels used in high-temperature kilns. The same is also applicable to magnesium oxide bricks for natural gas cinder smelting. Contact us for free quotes and samples.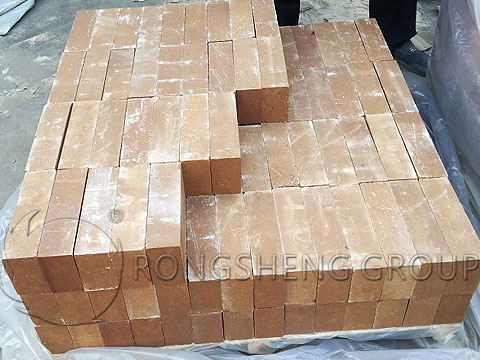 Basic Knowledge of Magnesium Bricks for Natural Gas Carbon Slag Smelting
Magnesium Brick is a basic refractory material with a magnesium oxide content of more than 90% and periclase as the main crystal phase. Generally, it can be divided into two categories: sintered Magnesium Bricks (also known as fired magnesia bricks) and chemically bonded Magnesium Bricks (also known as unfired magnesia bricks). Magnesia bricks with high purity and firing temperature are called directly bonded magnesia bricks because of the direct contact of periclase grains. Bricks made from fused magnesia are called fused rebonded magnesia bricks, which are suitable for large and medium-sized lime kilns such as rotary kilns, sleeve kilns, and shaft kilns. Magnesium Bricks have the advantages of strong alkaline erosion resistance, strong erosion resistance, good thermal stability, high compressive strength, and high load softening temperature. Sintered magnesia bricks use high-quality sintered magnesia as the main raw material and pulp as the binder. After kneading and high-pressure molding, it is fired in a high-temperature tunnel kiln above 1550°C. It has good thermal stability, corrosion resistance, and peeling resistance. Widely used in converters, electric arc furnaces, and other industrial kilns as furnace lining refractories.
Fused magnesium oxide bricks have the advantages of a dense brick structure, high mechanical strength, and less impurity content. Thermal storage dense refractory bricks mainly used in large glass kilns have refractory materials of certain shapes and sizes. The weight per unit volume and the density are high, indicating that the compactness is good and the strength may be high. The change of the re-burning line or the change of the residual line refers to the change in volume expansion and contraction in the same temperature change each time. High-temperature resistance, around 1800 degrees, the high-temperature load begins to deform at a high temperature, the load softening temperature is 1620-1640, and the thermal expansion coefficient is small. Dense refractory brick is a kind of siliceous clay rich in hydrated aluminum silicate, which has the ability of no deformation, no cracking, no softening, and no paste at high temperatures.
Unburned alumina-magnesia brick for ladle refers to an unburned refractory product used for lining bricks of steel drums made of bauxite clinker and magnesia as raw materials. With the development of new steelmaking technologies such as converter oxygen blowing, continuous casting, and refining outside the furnace, the temperature of molten steel increases, and the residence time in the ladle is prolonged. The use conditions of the lining of the steel drum are harsh, resulting in serious erosion of the clay lining brick. And the use of this kind of lining brick has a better use effect It is a non-fired refractory product lined with steel drums. With the development of new steelmaking technologies such as converter oxygen blowing, continuous casting, and refining outside the furnace, the temperature of molten steel increases, and the residence time in the ladle is prolonged. In the case of harsh service conditions for the lining of steel drums, the use of this kind of lining brick has a better effect.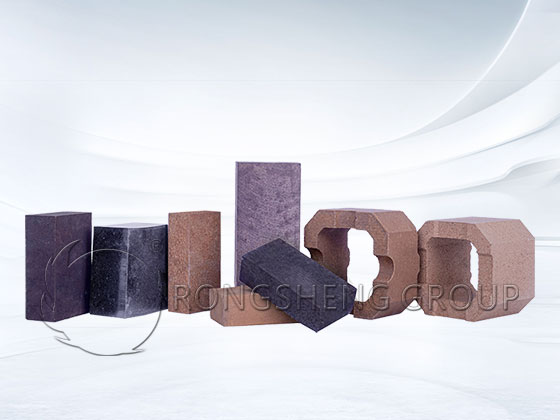 How many kinds of magnesium oxide bricks are there in magnesia bricks?
The content of Magnesium Bricks is 90 magnesia bricks, 91 magnesia bricks, 92 magnesia bricks, 94 magnesia bricks, 95 magnesia bricks, 96 magnesia bricks, 97 magnesia bricks, and 98 M magnesia bricks. Which properties determine its use? Magnesium Bricks are made from sintered magnesia, and magnesia bricks are made by crushing, mixing, pressing, drying, and burning. Magnesium Bricks belong to the basic series of refractory materials, which are widely used in basic furnaces. We can make various types of magnesia bricks according to customers' drawings.
Where to Buy Magnesium Bricks for Natural Gas Carbon Slag Smelting
Rongsheng refractory manufacturer can provide various magnesia refractory materials, including Magnesium Bricks for smelting natural gas carbon slag. Magnesia refractories refer to refractories that use magnesia as raw material, periclase as the main crystal phase, and MgO content of more than 80%-85%. The characteristics of magnesia refractory materials, compared with other refractory materials, the refractoriness is as high as 2000 ℃. It has a higher load softening temperature, generally up to 1500-1650 ° C, but the thermal shock stability is not good. Magnesia refractories are divided into two categories: metallurgy magnesia oxide and magnesia refractory bricks.
The thermal conductivity of magnesia refractory bricks is high, and the thermal conductivity of refractory bricks decreases with the increase in temperature. The coefficient of thermal expansion is large, but the expansion process is relatively gentle. It has strong resistance to the chemical attacks of alkaline slag containing magnesium oxide and calcium oxide. The types of magnesia refractory bricks produced by Rongsheng manufacturers are Magnesium Bricks, magnesia-silicon bricks, magnesia-alumina bricks, magnesia-calcium bricks, magnesium-carbon bricks, etc. We can customize the size and shape of Magnesium Bricks and the indicators of some magnesium oxide bricks with special requirements according to the customer's kiln lining requirements. And also provide the design and solution of refractory brick refractory lining. It aims to save refractory consumption for enterprises, prolong the service life of kiln lining, reduce energy consumption, and reduce production costs.