Corundum brick's compressive strength at room temperature, flexural strength at room temperature, and high-temperature flexural strength at 1400°C. For the compressive strength at room temperature, the T100 of corundum bricks made of tabular corundum as the aggregate is as high as 147MPa, which is twice the T0 of the fused white corundum bricks made of fused white corundum. Similarly, the flexural strength of plate corundum bricks at room temperature and high temperature is also significantly higher. The strength of bricks made entirely of fused white corundum is not only related to the corundum aggregate itself but also related to the ceramic bond formed after the brick is fired. The Main Components of Different Corundum Bricks are the following.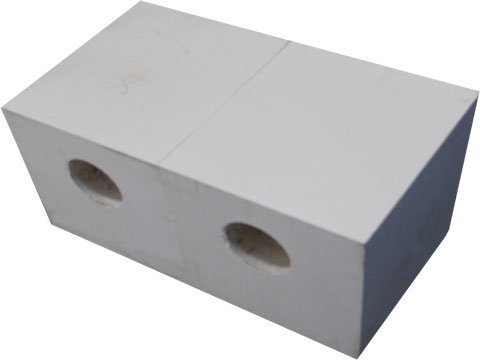 The Physical and Chemical Properties and Advantages of Corundum Bricks
The alumina content of corundum brick is more than 90%, and it is a refractory product with corundum as the main crystal phase. High compressive strength at room temperature, up to 340MPa. High load softening start temperature, greater than 1700°C. Very good chemical stability, strong resistance to acidic or alkaline slag, metal, and glass liquid. Thermal shock stability is related to its organizational structure. Dense products have good corrosion resistance but poor thermal shock stability.
Let's summarize the advantages of corundum bricks:
It has good sintering activity and can improve the density of corundum bricks.
Corundum bricks of tabular corundum have high bulk density and low apparent porosity.
It has high normal temperature compressive strength, normal temperature flexural strength, and high-temperature flexural strength.
The best wear resistance.
The corrosion resistance and permeability of coal gasifier slag and oil residue are better than pure fused white corundum bricks.
As an aggregate, it can improve the thermal shock stability of corundum bricks.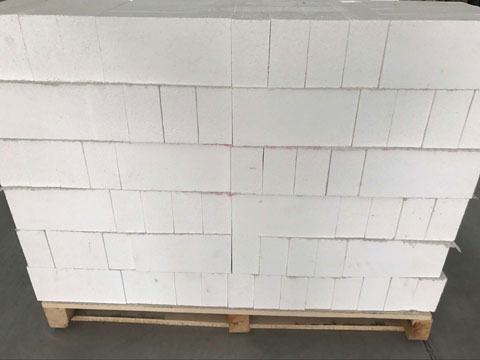 The Main Components of Different Corundum Bricks
Because there are many refractory materials on the market, different corundum bricks are widely used. Because of its good use effect, it is used in a variety of high-temperature industrial furnaces. In fact, corundum brick is a refractory material with alumina content greater than 90%, and often containing trace impurity elements Cr, Ti, Fe, and V. Corundum bricks on the market can also be divided into the following concentrated types according to the composition.
Brown corundum bricks are mainly made of bauxite and coke (anthracite). The main chemical composition is aluminum oxide, titanium oxide ring contains a small amount of silicon oxide and iron oxide. The microhardness is HV1800-2200, and the toughness is higher than SIC. Abrasive tools made of brown corundum are suitable for grinding metals with high tensile strength, such as various general steels, malleable cast iron, hard bronze, etc.; they can also be used to make brown corundum bricks, which are a kind of advanced refractory materials.
High-alumina corundum bricks are made of high-quality bauxite as the main raw material, and sub-white corundum bricks are produced on the basis of high-quality brown corundum bricks. Its chemical composition and physical properties are similar to those of white corundum. Sub white corundum is produced on the basis of high-quality brown corundum. Because its chemical composition and physical properties are similar to white corundum, it is called sub-white corundum. Bulk density≥3.8g/cm2, refractoriness≥1850℃. The product has the hardness of white corundum bricks and the toughness of brown corundum bricks. It is an ideal high-grade refractory material and abrasive material.
White corundum bricks are made by high-temperature smelting with alumina powder as raw material. It is white, slightly higher in hardness than brown corundum brick, and slightly lower in toughness. Made into abrasive tools suitable for the grinding of high carbon steel, high-speed steel, and quenched steel. White corundum can also be used for grinding and polishing materials, as well as precision casting sand, spraying materials, chemical catalysts, special ceramics, and advanced refractory materials.
Zirconium corundum bricks are made by smelting alumina and zirconia as raw materials in an electric arc furnace at a high temperature above 2000°C. Tough texture, dense structure, and high strength. The main mineral phase of zirconium corundum is a eutectic formed by a-alumina and alumina-zirconia. In order to ensure the quality of zirconium corundum, in addition to a reasonable selection of parameters and technology, cooling technology and processing technology. Choosing appropriate additives to reduce the silicon oxide content in the zirconium corundum bricks, making the alumina and zirconia eutectic, and having a uniform structure is also the key to the production of zirconium corundum bricks.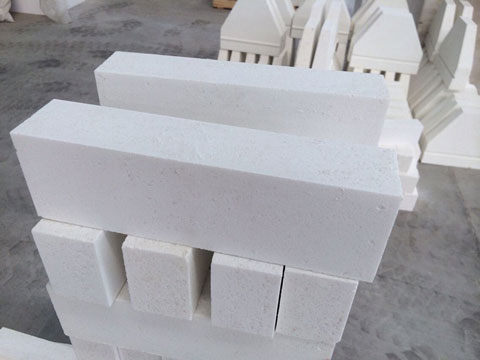 Classification of Corundum Bricks
Different Corundum Bricks are divided into semi-recombined or directly combined corundum bricks and dense corundum bricks. Semi-recombined or directly combined corundum bricks are made from fused corundum (or sintered corundum) and sintered alumina fine powder. Aluminum sulfate or paper pulp waste liquid is the binding agent. After high-pressure forming, it is a corundum refractory product sintered at a high temperature of 1750~1800°C. Dense corundum bricks are made of light-burned alumina fine powder. Carboxymethyl cellulose or dextrin is the binding agent. It is a corundum refractory product made by artificial granulation, press molding, and sintering at a high temperature of 1750~1800°C. It has the characteristics of high Al2O3 content, extremely low apparent porosity, high strength, corrosion resistance, and strong erosion resistance. It is suitable for the lining of synthetic ammonia converter.
Different Corundum Bricks are also classified into light corundum bricks and heavy corundum bricks according to their bulk density. Corundum bricks with different bulk densities have different performances and require different physical and chemical indicators.
So, what is the chemical composition of fused cast zirconia corundum bricks?
Fused zirconium corundum brick is also called fused zirconium corundum, commonly known as white iron brick. An electrofusion cast refractory material mainly composed of oblique zircon and corundum. A mixture of zircon (or industrial zirconia) and alumina as the main raw materials are made by melting, casting, and annealing in an electric arc furnace. Its chemical composition is: Zr0230%~50%, Al20340%~50%, Si0210%~17%. The mineral composition is mainly corundum oblique zircon eutectic, with a small amount of oblique zircon, corundum, and glass phase. The bulk density is 3.25~3.70g/cm3, the apparent porosity is 0.5%~7%, the compressive strength is 200~500MPa, and the load softening point is 1720~1760℃. Mainly used in glass kilns.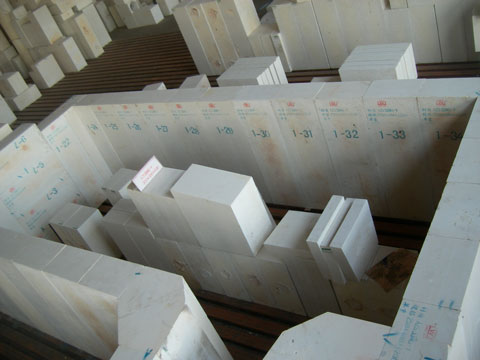 Application Industries of Different Corundum Bricks
Finally, I would like to summarize which industries corundum bricks are suitable for. Corundum bricks have excellent corrosion resistance, wear resistance, high-temperature strength, load softening temperature, creep, and other thermodynamic properties. It is widely used as a lining material for cracking, reforming furnaces, metallurgical industries, slag gasifiers, coal gasifiers, carbon black reactors, pulp waste liquid gasifiers, and other industrial furnaces in petrochemical and fertilizer industries.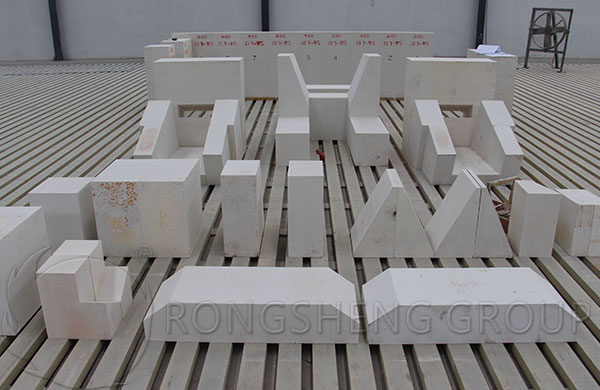 Rongsheng Corundum Brick Manufacturer
Rongsheng refractory material manufacturer is an experienced corundum brick refractory bricks for sale manufacturer and sales manufacturer. Rongsheng has advanced refractory brick production lines and experienced furnace refractory lining experts. And our technical team is also a technician with a wealth of refractory lining solutions. Our purpose in making refractories is to provide high-quality refractory lining materials for the refractory surface of kiln equipment, which has reached the maximum saving of energy, production costs, and economic benefits during the production and operation of kiln equipment. To purchase corundum refractory bricks, please contact us. We will provide you with services according to your specific needs.