2.2*36 meters of high-alumina bricks for zinc oxide rotary kiln can choose high-quality high-alumina refractory bricks according to the operating temperature. For example, primary, secondary, anti-stripping high alumina bricks, phosphate high alumina bricks, etc. Rongsheng high alumina refractory brick manufacturers can provide customized rotary kiln refractory bricks, welcome to consult.
The rotary kiln is lined with refractory materials, one is to protect the cylinder from being burned out; the other is to reduce the heat dissipation of the cylinder when the kiln skin is hung; the third is to store heat to facilitate heat exchange. The melting temperature of the cylindrical steel plate used in the rotary kiln is 1400~1500℃, while the normal temperature of the calcined clinker is 1450℃, and the temperature of the airflow can reach up to about 1700℃. When the fire is high (an inevitable phenomenon in the calcination procedure), the clinker calcination temperature is as high as 1500℃, and the temperature of the airflow is 1800-1900℃, far exceeding the melting temperature of the kiln shell steel plate. If you do not build refractory bricks or do not use aggregates, the steel plate will be burned red and deformed, or even burned through and melted. Even in normal production, after the refractory lining is burned off, it is very common for the kiln body to be burned red or to be protruded or depressed. In the past, there were more than one or two cases of melting and burning through the steel plate of the cylinder due to mistakes or malfeasance. Therefore, to ensure normal production, we must first achieve safe production. This requires masonry refractory lining on the cylinder.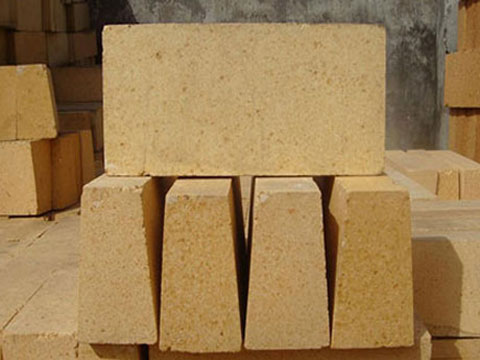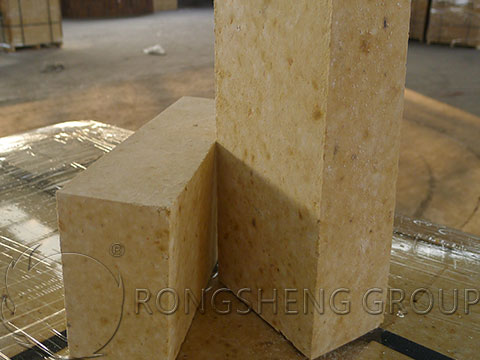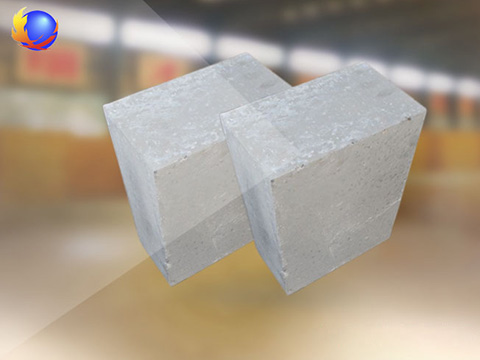 2.2*36 meters high alumina brick for zinc oxide rotary kiln, that is, a kind of aluminum silicate refractory bricks with alumina content above 48%. It is formed and calcined by bauxite or other materials with high alumina content. High thermal stability, refractoriness above 1770℃. Good slag resistance. Classification of high alumina bricks for zinc oxide rotary kiln:
High alumina brick;
Anti-stripping high alumina brick;
Phosphate-bonded high-alumina bricks, etc.
Anti-shedding high alumina bricks are referred to as anti-shedding bricks or anti-shedding refractory bricks. High alumina bauxite clinker is selected as the main raw material. The introduction of a small amount of ZrO2 (due to the phase transition between monoclinic and tetragonal ZrO2 can further improve the thermal shock stability of the refractory brick). Add a certain amount of composite binder and additives. By controlling the particle gradation of the mud, it is made by high-pressure molding and high-temperature firing.
Phosphate bonded high alumina bricks use phosphoric acid solution or aluminum phosphate solution (aluminum dihydrogen phosphate, PA-80 glue, etc.) as the binding agent. The bauxite clinker is used as the aggregate, and it is machine-pressed. The chemically bonded refractory bricks are made by the temperature treatment of 500~600℃.
High alumina bricks for zinc oxide rotary kiln can be used to build a blast furnace, hot blast stoves, electric furnace roofs, blast furnaces, reverberatory furnaces, and rotary kiln lining. In addition, high alumina refractory bricks are also widely used as open hearth regenerative checker bricks, plugs for pouring systems, nozzle bricks, etc.
Advantages of Phosphate Brick as the Lining of Small Rotary Kiln
Phosphate bricks have high technical indicators as the lining of a rotary kiln.
Before 1500℃, phosphate bricks have high thermal strength and good wear resistance. Using it as the lining of a rotary kiln can increase the service life by 1~2 times compared with high alumina bricks.
The phosphoric acid brick has good thermal shock stability (850℃-water cooling, 20 times without weight loss). When the lining temperature of the rotary kiln changes sharply, the phosphate brick does not burst and does not peel off. Therefore, the kiln skin does not collapse or crack.
It is easy to stick to the kiln skin, and the maintenance of the kiln skin is convenient. Phosphate bricks have a low softening temperature under load and a rough surface. Therefore, it is easy to bond with the material, and the key first kiln skin can be evenly hung. The combination of brick and kiln skin is flat and firm. If the kiln skin is defective, it is easy to repair it.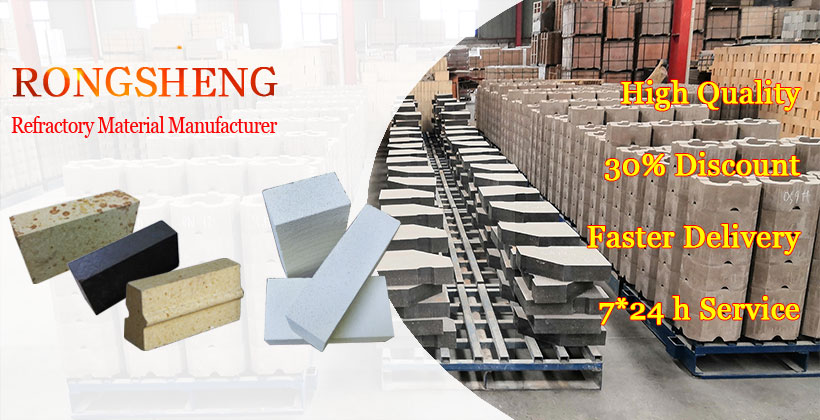 Rongsheng refractory brick manufacturers
In the field of refractory materials, Rongsheng refractory brick manufacturers have rich experience in production and sales and can provide customized refractory bricks. Rongsheng's refractory products have been sold to more than 80 countries around the world, such as South Africa, Philippines, Chile, Malaysia, Indonesia, Vietnam, Kuwait, Turkey, Zambia, Peru, Mexico, Qatar, Egypt, Russia, Kazakhstan, etc. And our refractory production line is getting better and better. Advanced refractory brick production plant, specializing in the production of high-quality refractory brick products. Rongsheng manufacturers have a complete range of refractory brick products. We also have several successful cases in rotary kiln refractory lining. Contact us to get the configuration plan of the refractory lining material of the rotary kiln for free. Buy high alumina bricks, phosphate bricks, etc. for zinc oxide rotary kiln at the most competitive price.