Chrome refractories include magnesium-chromium-based, high-chromium-based, and aluminum-chromium-based refractory materials. Magnesia-chrome bricks are mainly used in industrial fields such as cement, steel, and non-ferrous metal smelting. The high-chrome refractory material is suitable for coal gasifiers and high-performance alkali-free glass melting pools. The beginning of high-chromium refractories began with the study of MgCr2O4 materials. Experiments have shown that chrome bricks, Cr2O3-rich high-purity magnesia-chromium materials made of Cr2O3 and magnesia, have formed magnesia-chromium spinels close to the stoichiometric ratio, with a structure of large-grained MgCr2O4 and Cr2O3 phases. Chrome refractory Malaysia, high chrome refractory brick is a dense material with strong bonding, resistance to cinder penetration, and solubility.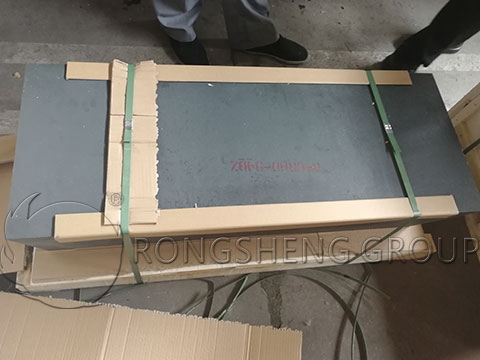 Chrome Bricks Malaysia
High chrome bricks are divided into four grades according to the content of chromium trioxide, GGZ-75, GGZ-85, GGZ-90, and GGZ-95. Among them, G, G, and Z are the initials of the Chinese pinyin of "Gao, Ge, Zhuan" respectively, and the Arabic numerals are the mass fraction of chromium trioxide.
High-chrome bricks are mainly made of industrial-grade chromium trioxide and alumina, or a small amount of zirconia is introduced. A shaped refractory product with a chromium trioxide content of not less than 75% is obtained by firing at a high temperature. High chrome bricks have the characteristics of excellent corrosion resistance, high compressive strength at room temperature, high-temperature strength, excellent wear resistance, high refractoriness, excellent thermal shock resistance, and good high-temperature volume stability.
Application of High Chrome Brick in Coal Gasifier and Glass Kiln
High chrome bricks are mainly suitable for the working lining of relevant reducing atmosphere industrial furnaces such as coal-water slurry pressurized gasifiers. Chrome bricks and chrome oxide bricks (hereinafter referred to as chrome bricks) were first used in non-ferrous metallurgical furnaces and coal gas slag furnaces. It has excellent corrosion resistance to steelmaking slag outside the furnace, non-ferrous smelting slag, coal gasification slag, and various glass liquids. In the past 10 years, chrome refractory, this refractory material has been used in glass melting furnaces. But only limited to dark bottle glass melting furnace or alkali-free glass fiber melting furnace. And it is mainly used in the high-temperature part of the glass melting furnace. Such as the upper pool wall, small furnace mouth, liquid flow hole, feeding port, etc. Because it can significantly prolong the kiln age, it has attracted widespread attention in the glass industry.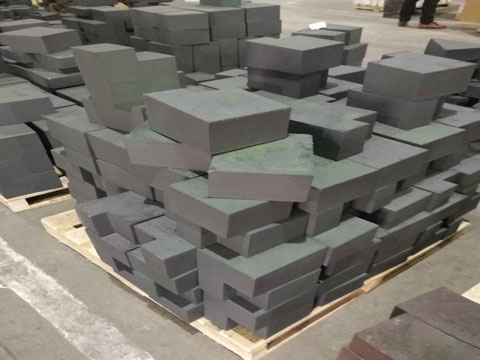 In the past, high-chromium refractory products were mainly used in reinforced glass melting furnaces and a small amount in insulating glass pool furnaces. Now high chrome bricks are being used more and more in some soda lime glass pool furnaces. Its main use has not been limited to full or partial flow holes, but also to end walls and to a limited extent corner bricks for feed openings. For the components of high chrome bricks, there is a potential tinting hazard, so high chrome products are generally not compatible with very "white" glass. Initially, this product was mainly used for tinted glass, but now high-chromium products have also been successfully used in glass pool furnaces for transparent containers. The amount of high-chromium products used in glass melting furnaces depends to a large extent on the design of the flow hole, the cooling of the flow hole, the daily output of the pool furnace, and the operation of the furnace. A glass manufacturer might use high chrome bricks for all decks plus the end walls of the melting pool. Flow holes in high chrome brick masonry offer the potential to increase furnace life, as this material is at least twice as resistant to erosion as molten AZS bricks for most glasses. However, certain design and operating parameters differ from fused AZS bricks and require discussion with the supplier of high chrome bricks.
The high chrome bricks (Cr2O3>90%) produced by RS Cheap Refractory Brick Manufacturers are mainly used in key parts of the coal chemical industry, chemical industry kilns, alkali-free glass fiber kilns, waste incinerators, gasifiers, and other kilns. Chrome corundum bricks are mainly used for carbon black furnaces, linings of copper smelting furnaces, molten pools of glass furnaces, slideways, and tapping platforms of steel rolling heating furnaces. The dimensions, physical and chemical indicators, and service life of chrome brick products have reached or exceeded the level of similar products at home and abroad. To know more about the application of high chrome bricks in coal gasifiers and glass kilns in Malaysia, please contact us. We will provide free samples and quotations.