The production process of magnesia carbon bricks. The raw materials for the production of MgO-C bricks are mainly magnesia. Its technical requirements are high purity, fewer impurities, complete development of granular crystals, uniform texture, low porosity, and high volume density. Magnesia is divided into fused magnesia and sintered magnesia, but gradually replacing part of sintered magnesia with fused magnesia can significantly improve corrosion resistance. Carbon raw materials generally use natural flake graphite. It has no eutectic relationship with oxides such as MgO, and does not form a low-melting substance. Its thermal conductivity is large, the elastic modulus is small, the thermal expansion coefficient is low, and it has the characteristics of non-wetting. The binder is the key material for the production of MgO-C bricks. Its technical requirements: (1) The wetting angle of carbon materials is small, and the affinity is better. (2) High residual carbon rate. (3) Fewer impurities and moisture content. Commonly used binders are phenolic resin, modified phenolic resin, and tar pitch. At present, most of the production of MgO-C bricks uses synthetic phenolic resin. In addition, suitable additives are also required.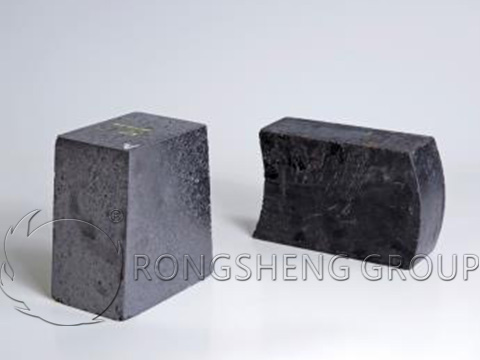 Carbon raw materials for the production of magnesia carbon bricks
As the main carbon raw material for the production of magnesia carbon bricks, graphite has excellent physical properties. For example, non-wetting to slag, high thermal conductivity, low thermal expansion, no eutectic with refractory materials at high temperatures, and high refractoriness.
Graphite has a layered structure in which the atoms in the layer are grouped together in a hexagonal arrangement of strong covalent bonds. There is van der Waals force between layers, which makes it have strong directionality, that is, obvious anisotropy. The layer and the entire surface contain relatively low energy and hardly wet liquid high-temperature molten slag and molten steel. Graphite has high thermal stability without melting, and ion migration is very limited. It is impossible to recombine the ionic bond between magnesium oxide and the covalent bond of graphite in the magnesia carbon brick. Therefore, the second binder is needed to form a network structure to obtain greater strength. However, it has free valence bonds on the boundary and can adsorb various substances. Flake graphite has higher oxidation resistance than other carbon products, and this oxidation resistance also improves the abrasion resistance of magnesia carbon bricks.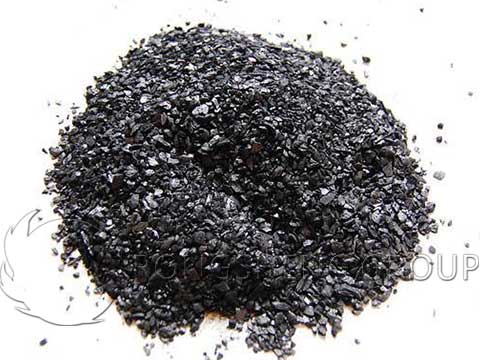 The influence of flake graphite on the performance of magnesia carbon brick
The purity and amount of flake graphite have an extremely important influence on the performance of magnesia carbon bricks. Its proper addition can effectively inhibit the intrusion of slag into the structure of refractory materials. Studies have shown that magnesia-carbon bricks with a carbon content of 15% have better resistance to slag erosion. The main factors that directly affect the performance and use the effect of magnesia-carbon bricks include fixed carbon content in graphite, graphite particle size, shape, and volatile content. The more you add, the more ash will be brought in.
The purity of graphite affects the spalling resistance and high-temperature flexural strength of magnesia carbon bricks. The main component of ash is silica. Secondly, at the operating temperature of aluminum oxide and iron oxide, silicon oxide and iron oxide are easily reduced and oxidize graphite during use, so they are particularly harmful to magnesia carbon bricks. With the increase of carbon content, the bulk density of magnesia-carbon bricks decreases, the strength at room temperature decreases, the erosion resistance index drops sharply, and the effect of high-temperature flexural strength is not significant. But the anti-stripping performance has increased. In short, the appropriate amount of graphite added is related to the type of furnace, the different parts used, and the respective operating conditions. It is usually determined based on whether the use conditions of magnesia carbon bricks emphasize corrosion resistance or thermal shock stability, or require high strength or oxidation resistance.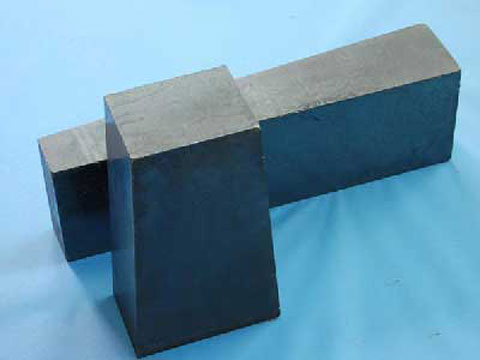 Application of high-performance magnesia carbon brick
Magnesia carbon brick is a kind of magnesia refractory material. Magnesium refractories have high refractoriness and strong resistance to alkaline slag. It is the most widely used and most important type of refractory in steelmaking alkaline converters, electric furnaces, mixers, and many non-ferrous metal pyrometallurgical furnaces. It is also the most commonly used refractory material for high-temperature zones such as glass melting furnace regenerators and cement kilns.
The development of low carbon magnesia carbon bricks
With the advancement of smelting technology and new requirements for refractories, low-carbon magnesia-carbon refractories have become a new hot spot for the development of magnesia-carbon refractories. Low-carbon MgO-C bricks generally refer to MgO-C bricks that have a total carbon content of no more than 8% and are combined with magnesia and graphite through an organic binder. Reducing the carbon content can significantly reduce the thermal conductivity of the material. In recent years, the development of low-carbon magnesia-carbon bricks with low carbon content and excellent performance for refining ladle has attracted the attention of domestic and foreign industries. The research and development work in this area has achieved certain results, showing good development prospects.
Magnesia carbon brick manufacturer
Rongsheng refractories manufacturer is a refractory brick manufacturer with rich experience in production and sales. Rongsheng's refractory products have been sold to more than 60 countries around the world, for example, etc. Moreover, the high rate of customer return orders fully demonstrates the high product quality and good customer service of Rongsheng refractory manufacturers. In the production and sales of magnesia carbon bricks, we also provide customers with high-quality products and customer service. If you need to buy magnesia carbon bricks, please contact us.